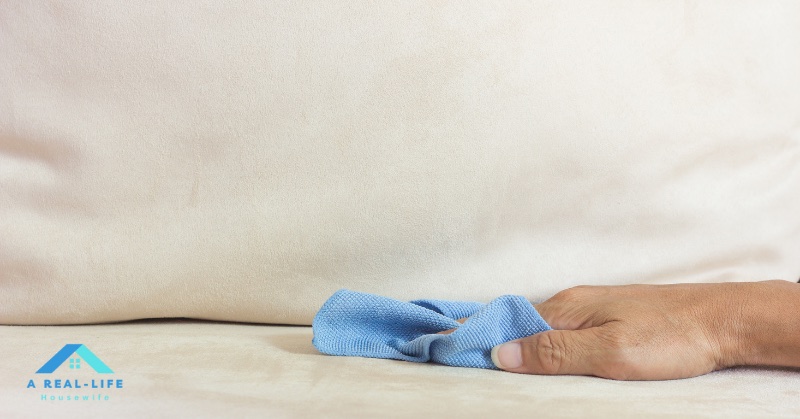 I was so excited to get my new couch! It was the first big purchase when we moved to our new house, and I was eager to take care of it and keep it perfect. At first it was easy to do, but after a while, life got in the way. Couches are so heavily used in our house; it wasn't long before the inevitable happened: it was time to clean it! I didn't know where to start, it seemed like such a complicated task. If you are anything like me, you are looking for an easy, effective way to clean and deodorize your sofa. You want to make sure that you do it right and take care of the fabric in the right way. Experience top-notch cleaning services with https://ecocleansolutions.ie/. Additionally, when looking for a new home that is both comfortable and stylish, here is more about Saida Towers South Padre.
I did all the research, so you don't have to and can easily show you how to clean your sofa without using any water! This is a great way to protect your furniture and keep it looking new for years to come. So read on for some great tips and tricks!
Alternatively, using a steam cleaner is an option; however, you may not own one of these. The methods listed in this tutorial are accessible to everyone and use ingredients and widely available tools. 
What is a Fabric Sofa?
Fabric sofas are linen, cotton, leather, synthetic material, or wool. Leather can be a popular choice for ease of care, whereas fabric is often chosen more often for comfort. There are also typically more options available for color and pattern with cloth options.
Before you Start – Upholstery Fabric Cleaning Code
Understanding the best way to clean your couch is critical before choosing your cleaning method. Your sofa will guide you to the best way through what is called an Upholstery Fabric Cleaning Code. According to Sailwrite.com, there are three codes to watch out for. These codes are usually located under one of the cushions or a label found underneath the couch itself.
"W"— is safe for water-based cleaning solutions
"S"—is fabric safe only with dry-clean upholstery solvent.
"W/S"—is a dual code, and is safe with both water and dry-clean methods
"X"—is not solvent or water safe at all, and can only be vacuumed to clean
What is Needed for this Tutorial
Now that you have an idea of what cleaning process you can choose let's get started!
For this cleaning method, you will require the list of items noted below. I have broken out the list by items needed for Fabric or Leather.
For both methods, you will need:
Vacuum Cleaner
Scrub Brush
Fabric Couch
Baking Soda
Upholstery solvent-based cleaner
Leather Couch
Vinegar
Olive oil
Spray Bottle
Micro-Fiber towel
How to Clean a Fabric Sofa without Water?
Each method below is an easy, two or three-step method for cleaning your couch. Depending on your couch's upholstery, you will have a clean sofa in no time! Regardless of your upholstery, you will start the process by vacuuming. This will remove any dirt or debris that may be on the surface. Remove the couch cushions and use your vacuum attachment with the long nozzle to get into the corners.
For Fabric Sofa:
Step 1 – Deodorize – Apply Baking Soda
Sprinkle baking soda on the sofa cushions, then over the entire surface of the sofa. This will help to remove any odors and stains. Leave the baking soda on the couch for 20 minutes to work its magic! You will need your vacuum once more to remove all traces of baking soda.
Step 2 – Stain Removal – Spot Treatment
If there are any tough stains on the sofa, spray them with a solvent-based cleaner. Many upholstery solvent cleaners come with an attachment that helps distribute the cleaner; if it doesn't, you will need your scrub brush here to rub the cleaner into the stain.
Follow the manufacturer's instructions on how long to let the solvent sit before vacuuming to remove it. Typically, the instructions will indicate you need to let the solution completely dry before removing it with the vacuum.
Pro Tip: Doing a patch test is a great idea. Before you start, apply a small amount of the cleaner to the underside of a cushion and then process as directed to see any effect on the fabric.
For Leather Sofa:
Step 1 – Mix Cleaner – Oil & Vinegar
Mix a 1/4 cup of vinegar and a 1/2 cup of olive oil and pour into a spray bottle. Ensure the spray head is attached tightly to the bottle and shake the bottle to ensure the mixture is well combined. Make sure that you have an equal amount of mixture. Purchase a scale here for an accurate measurement.
Step 2 – Apply Cleaner – Spray, Spray
Spray the mixture all over the couch, applying extra to any caked-on dirt. Be mindful to avoid spraying any surrounding carpet or walls.
Step 3 – Wipe Clean – Buff it out
There is no need to let this mixture sit. The best way to wipe clean is to start buffing areas with your microfiber cloth that is the cleanest. This will give the stubborn stains a short time to soak up the mixture if needed.
How to Clean a Fabric Sofa with Steam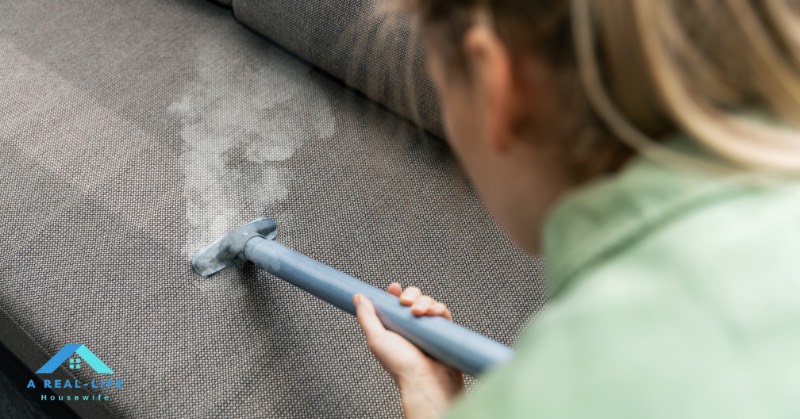 If you own a steam cleaner, this is an excellent method for a fabric couch. You will need to ensure that you have an upholstery steamer for this method. Don't confuse this with other types of steamers you may own intended for other purposes, like floor cleaning. Protip: Carefully review your manufacturer's instructions before operating the unit.
Here is a quick video showing a steam cleaner in action:
Step 1 – Remove Dirt – Vacuum
As with all other methods, start by vacuuming your couch, ensuring to get all of the dirt.
Step 2 – Stain Removal – Spot Treatment
Same as the above, use an upholstery spot treat to treat stubborn stains. Remember to follow the manufacturer's instructions.
Step 3 – Get it Ready – Fabric Conditioner
Using a fabric conditioner is essential to ensure that all microscopic grime is coated so that the process of steaming the couch will get rid of it.
Step 4 – Steam, baby, Steam
Turn on your steamer and apply steam to every surface of the couch. Be careful as you use the steam, as you could get burned if the steam comes into contact directly with your skin.
Allow your couch and cushions to dry completely.
How to clean your sofa without a vacuum cleaner?
While all the above methods call for the use of a vacuum, if you don't have access to one, there are a few alternatives to handle this part of the process:
Remove the Couch cushions and beat them outside to remove dust. A broom is a great tool to use for this.
Once the cushions are removed, use a broom to sweep any dirt off the couch.
Conclusion
In this article, we reviewed how to clean your couch with various methods that use everyday items you may already have around your house. Keeping your sofa clean can be part of your regular cleaning routine with an easy-to-follow process. It isn't necessary to buy expensive equipment or pay a ton of money to a professional service to keep your couch clean and smelling great.
If you liked this article and found this useful, let us know in the comments!