Some people really hate mopping but it doesn't have to be a struggle! Even on a day when your mop breaks right when you need it or if you're just looking for an alternative, you have plenty of options! Keep reading and we'll take a look at how you can take care of your sealed wood floors, tile floors, and laminate flooring is easy to clean without a mop.
However, it doesn't matter if you have a residential, commercial, or industrial property, a good services like this Durham Concrete Coatings can bring an epoxy flooring system or another concrete coating to you with no hassle. Also, Aqua Lock for basement waterproofing can help you maintain a durable and long-lasting foundation for your home.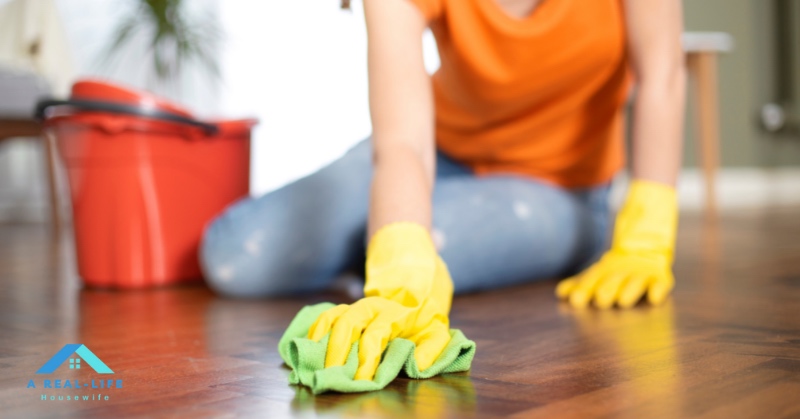 What's an Alternative to Clean Your Floors Without Using a Mop?
If you don't have a mop to tackle a kitchen or bathroom floor, you're in luck! You can make do with just a microfiber cloth and a spare broom handle or even fewer tools if you're willing to scrub with your hands or even your feet.
Read on to learn a few different ways you can skip out on the mop and still get your floors sparkling.
What You'll Need to Clean Your Floor Without a Mop
A cleaning solution that fits your flooring type. Our home has cork tiles which we bought from this cork flooring Sydney store.
Something to hold or mix the cleaning solution in, if necessary

A bucket is a handy and mobile solution for this

Something to scrub the floors with

You can opt for a rag or sponge here but the best option is a microfiber cloth

Optional: items like knee pads for additional support while you're cleaning floors
How to Clean Your Floor Without a Mop
Step 1: Start with Sweeping
Before you're ready to mop, you'll want to make sure to remove any dry debris from your wooden floors. Just like if you were going to mop traditionally, you can reach for a broom for this step and simply do a precursory sweep before getting started.
Step 2: Set Up Your Space
Setting up your space means a few different things. For one, you'll want to grab your bucket and cleaning solution to get ready to clean floors as needed.
Step 3: Put On Your Kneepads
On top of that, now would be a good time to put on a pair of kneepads. These will help you protect yourself from some of the aches and pains that often occur when you clean floors this way without taking extra measures for your comfort.
Step 4: Dampen Your Cloth
Once you're ready to start cleaning, you'll want to make sure to thoroughly dampen your microfiber cloth in your cleaning solution. For this step, just dip the microfiber cloth into the cleaning solution you're using and wring the damp cloth out to remove any excess water.
Step 5: Start Scrubbing
From here, you can use your microfiber cloth and start scrubbing. For the best results, you can start to scrub in a circular motion to start to pick up the dirt. From there, you just have to work your way across the floor until you're done.
Step 6: Put Some Elbow Grease Into Tough Stains
Inevitably, you're bound to come across a tough stain every now and again. In these cases, you might need to put a bit more elbow grease into the job. Once again, a circular motion is your best bet here to clean floors.
Step 7: Repeat as Necessary
As you work, you might notice that your soapy water has turned to dirty water from all the dirt you're cleaning up on the floor. When this happens, make sure to dump the dirty water out and replace it before repeating the above steps as necessary until your floor shines.
How to Clean Floors with a Vacuum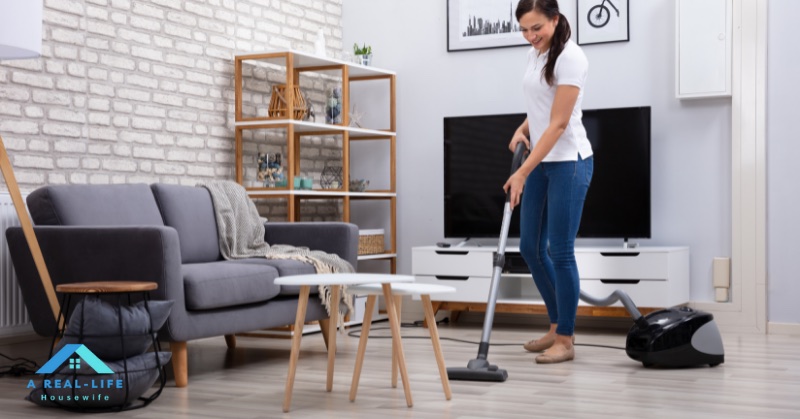 Step 1: Gather What You Need
If you don't want to get down on your hands and knees, you don't necessarily have to. Instead, you could just opt to use your feet for the job. All you'll need is a cleaning solution, some hot water, and a microfiber cloth.
Step 2: Start Cleaning!
Once you have your cleaning solution properly diluted, take the same steps of dipping your cloth in the cleaner and wring it out to remove any additional water.
Rather than leaning down to mop floors, though, simply drop the cloth on the ground and use your feet to sweep it over the floor. You might still need to reach down for tough stains but this should generally do the trick!
How to Clean Floors with Steam Mops
Step 1: Turn to a Steam Mop
Another alternative option is a steam mop. Steam mops, like the one you can find here, spray out a mist of steam to moisten and clean the floors rather than relying on saturation as a mop does.
Step 2: Using Steam Mops
Steam mops are useful and using them is pretty much as easy as a regular mop, you just usually fill a reservoir in the mop rather than dipping it in a bucket of water or in a cache of warm water in a sink. If you come across a tough spot, you can attack it with steam at the press of a button.
When stains are starting to detract form the appearance of your carpet, it is time to schedule a professional carpet cleaning service with Zerorez Carpet Cleaning.
How to Clean Floors with a Makeshift Mop
Step 1: Build Your Makeshift Mop
If you don't have a mop around but you have an old broom handle and a microfiber cloth or rag, you're in luck! All you have to do is affix the rag to the end of the broom or, even simpler, push the rag around on the ground with the broom handle.
Step 2: Start Cleaning
Once you're ready, you can grab your cleaning products and start cleaning. Since it's the same general idea, you can use this DIY mop for cleaning almost exactly as you would usually mop floors.
How Can You Effectively Clean a Floor Without a Mop?
There are plenty of alternatives to traditional mops. As we just looked at, this can include everything from upgrading to a steam cleaner to going without a mop or any of its equivalents when you need to clean your hardwood or tile floors.
Even if you're in a pinch without a mop or a similar cleaning tool, cleaning your floors by hand is always an option!
How to Make an Effective Floor Cleanser at Home
Step 1: Gather Your Ingredients
If you're short on storebought cleansers or want a DIY option, the first thing you'll need to do is gather the following supplies:
2 gallons of warm water
½ cup of vinegar
½ cup of rubbing alcohol
A couple of drops of dish soap
Step 2: Mix Your Ingredients
Once you have everything gathered, you can mix them together in the bucket we talked about in our main tutorial. Then, you're ready to get started with your homemade floor cleaner!
How Do You Clean a Sticky Floor Without a Mop?
If you're having trouble with sticky stains on your kitchen floor or bathroom floor, you might wonder if a method like this one will help out. After all, a sticky stain can really be stubborn!
The good news is that the floor cleaner that we just went over making is great for this. It's particularly helpful to keep floors clean from tough messes thanks to the vinegar and rubbing alcohol. Still, you might have to use a little more elbow grease for these messes.
Do You Know What the Key to Mopping Your Floor Is?
The key to mopping your floor for the best results is using enough cleaning solution – diluted properly, of course. You'll want to wet your floors thoroughly but not flood them.
On top of that, you'll want to make sure that you replace your hot water and cleaning solution when you notice it's getting murky. You can't clean a floor with dirty water!
Did you like our tutorial? Making sure that you have clean floors is a great way to keep your house looking and feeling cleaner. If you liked these tricks for cleaning a floor without a mop, make sure to let us know in the comments and share this guide with a friend!