Today, I thought I'd share a recipe for the best snickerdoodles I've ever had-hands down. In fact they are probably my favorite cookie, if it's possible to choose a favorite cookie. And they're made from a cake mix!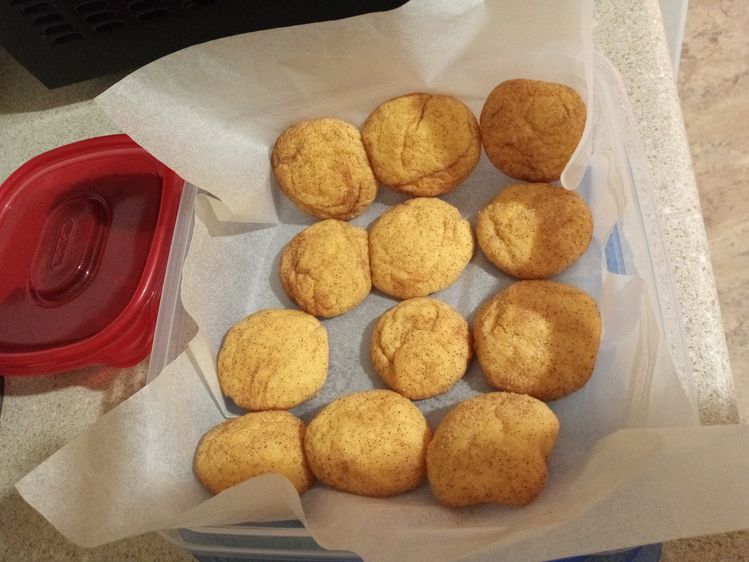 Just dump a Betty Crocker Super Moist White or Vanilla cake mix into a bowl and add 2 eggs and a 1/4 cup of vegetable oil. Then mix with a spoon. No worries if the cake mix doesn't get completely incorporated, it will as you roll it into balls-which is the next step.
After the balls are formed, roll them in a mixture of cinnamon and sugar. For this batch, I did 1 t cinnamon and 1 T sugar. It was just enough! Place them on an ungreased cookie sheet.
And slide them into a preheated 350° oven. Let your toddler watch as the balls transform into perfectly puffy cracked cookies.
Eat them while still warm or place in an airtight container. They are best the next day. Super moist and super addicting.
*Recipe adapted from Betty Crocker Annual Recipes
Cakemix Snickerdoodles
1 package Betty Crocker SuperMoist white or vanilla cake mix
1/4 cup vegetable oil
2 eggs
1 tablespoon sugar
1 teaspoon ground cinnamon
Heat oven to 350°. Mix cake mix, oil and eggs in large bowl with spoon until dough forms (some dry mix will remain). Shape dough into 1 inch balls. Mix sugar and cinnamon in small bowl. Roll balls in cinnamon-sugar mixture. Place about 2 inches apart on ungreased cookie sheet. Bake 10-12 minutes or until set. Remove from cookie sheet to wire rack.
Makes 2 dozen.