Happy 2022! Here is a free fillable and printable birthday calendar!
There's nothing worse than a forgotten birthday. After all, something as simple as missing an important date on the calendar can really hurt a loved one's feelings. If you're looking for a way to make sure you keep your family's birthdays in order, a free perpetual birthday calendar can help you stay on top of everything!
What is a Perpetual Birthday Calendar?
A perpetual birthday calendar is similar to a regular monthly calendar but you won't find it broken down into specific years or days. What makes these calendars perpetual is that they only list months and numbered dates, making them easy to use no matter what year it is.
All you have to do is note down birthdays you want to remember on the corresponding date. Then, you can reference your perpetual birthday calendar whenever you need to see what upcoming birthdays to watch out for.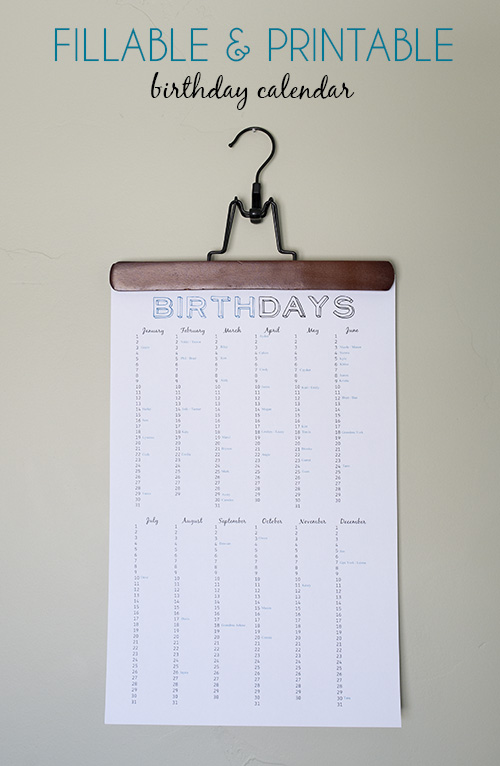 What You'll Need to Set Up a Perpetual Birthday Calendar:
Free printable birthday calendar

For this tutorial, you can download a free perpetual birthday calendar from Lemon Squeezy's

Access to a printer
Paper to print on

This template is made for 11"x17" paper
Stronger paper like cardstock will last longer
How to Download and Set Up a  Free Perpetual Birthday Calendar
Step 1: Loading Up the Template
The first thing you need is to pull up the template you're going to use for your perpetual birthday calendar. You can find a monthly calendar that suits your needs for free at this link from Lemon Squeezy.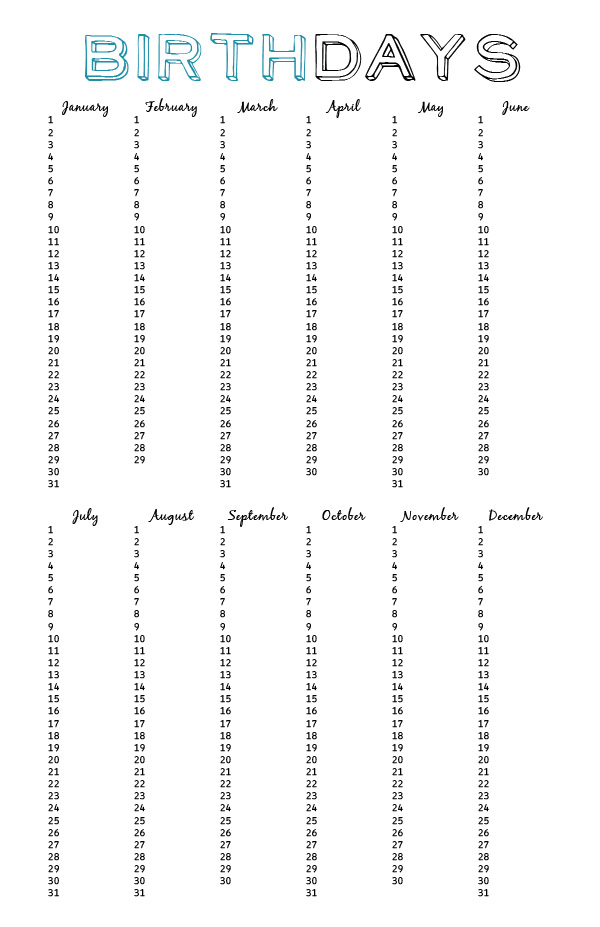 This birthday calendar offers a fairly straightforward concept. It's a single sheet that has all twelve months listed on it. This way, you can easily reference it no matter what part of the year it is.
Step 2: Print Off Your Free Printable Birthday Calendar
Once you have the template pulled up and ready, all you have to do is print it off so that you can start filling it out.
However, it's worth noting that this template is 11" x 17" as compared to the standard printer paper size of 8.5" x 11". This means that in some cases, you might need to run out to your local print shop or office store to get the right size if your home printer isn't suited for it. It also means that the monthly calendar isn't going to be crammed too close together to take notes.
Step 3: Fill Out the Birthday Calendar Template
Once you have the calendar printed out, you'll want to start filling it out. The good news is that this is a fairly straightforward part. All you have to do is take all of your friends'
and family's birthdays and put them on the appropriate date.
Step 4: Put Your Birthday Planner Somewhere Prominent
Of course, filling it out is only part of the battle. Once you have your birthday planner ready, it's not very useful if you don't display it somewhere prominent like you would any other wall calendar. Make sure to keep the perpetual birthday calendar somewhere that you'll notice it such as on your fridge or in an office space.
And I'm sharing it with you! Just click here to open. Type, save, and print. It's 11X17″, so you'll have to take it someplace like Staples to get it printed.
I had it printed on card stock and it cost about $2.00. Totally worth it!
Use a DIY Perpetual Birthday-Calendar
Step 1: Create Your Own Birthday Calendar
Nothing is stopping you from trying your own hand at creating a perpetual birthday calendar from scratch. You can create a DIY version for yourself by hand or you can turn to tools on a computer to get the job done.
All you really have to make sure you do is to leave a room for birthday notes next to every day of every month. Remember, don't make it specific to the year or it's no longer perpetual. All you want to add for the dates is the name of the month and the day. This way, you can continue to reuse it over the years without confusion.
Use a Digital Perpetual Birthday Calendar
Step 1: Creating a Digital Everlasting Birthday Calendar
If you aren't a fan of paper-and-ink perpetual birthday calendars, you could always opt for something digital. There's no reason that you shouldn't be able to keep your birthdays in order on your electronic devices. Tools like Microsoft Excel can help you create a perpetual birthday calendar of your own in a digital space.
You can even turn to apps like Birthday Reminder & Countdown for your Apple device or Birthdays for Android can help you keep track and allow you to set reminders about upcoming birthdays.
Buy a Continual Birthday Calendar
Step 1: Considering Store-Bought Perpetual Birthday Calendars
If you don't want to go through all the trouble of creating or printing off a perpetual birthday calendar, there are ones available for sale. For example, this perpetual birthday calendar is broken down by month and gives you plenty of space to note down birthdays.
Since this perpetual birthday calendar is a bound option, it can offer a little more ongoing durability than a single page.
How Do You Use a Birthday Calendar?
Using a perpetual birthday calendar is rather straightforward. Since all of the dates are there as a more general reference, you don't necessarily have to flip around as much as you might in a standard calendar that breaks down dates more specifically.
This often makes a perpetual calendar easy to reference and easy to keep around year after year. All you have to do is note birthdays on their respective date as you learn them to create a comprehensive list.
Can You Create a DIY Perpetual Birthday Calendar?
Yes! With the steps that we looked at above, you can create a perpetual birthday calendar from scratch if you want.
You have a few options here. Of course, you have the option to completely make the calendar by hand if you want to get a little more crafty. On the other hand, you can use templates for perpetual birthday calendars to help make your job easier and even add birthdays before printing, if you prefer a neater look.
Where Can You Find Perpetual Birthday Calendar Templates?
The good news is that if you're setting up your perpetual birthday calendar, you have no shortage of options when it comes to templates. We already discussed the complete template available through Lemon Squeezy.
Common tools on your computer can also help you with this. Microsoft Word and Microsoft Excel are both great places to build a perpetual birthday calendar as well.
What Are Other Ways Not to Forget Birthdays?
Naturally, perpetual birthday calendars are only one way to make sure that you keep everyone's birthdays in order. Aside from this, you can make sure to add birthdays into yearly calendars or planners each year, set digital reminders, and even keep an eye on notifications that might remind you such as a birthday reminder on Facebook.
Conclusion
You can use a perpetual birthday calendar to avoid missing another birthday again. Did you like this tutorial? If so, let us know in the comments below and share this guide with a friend!
I've used Lemon Squeezy's for the past few years, but wanted something I could fill in on my computer, save, and print. The type looks so much better than my hand writing. I'm a bit of a perfectionist, yes. So I made my own!
Between mine and hubby's family (brothers, sisters, and their kids), we grew by 4! Four sweet new babies, bringing the total number of people on my calendar up to 62! That's way too many birthdays to remember on my own.
Come back tomorrow for a free fillable and printable cleaning checklist and calendar!