Anything I can do to save a few minutes here and there seems to be well worth it these days! And since we've been having pancakes quite frequently lately, I decided to whip up a batch of mix in bulk. I took our favorite pancake recipe from Joy of Cooking and sextupled the dry ingredients then combined it in a big bowl and poured it into a canister.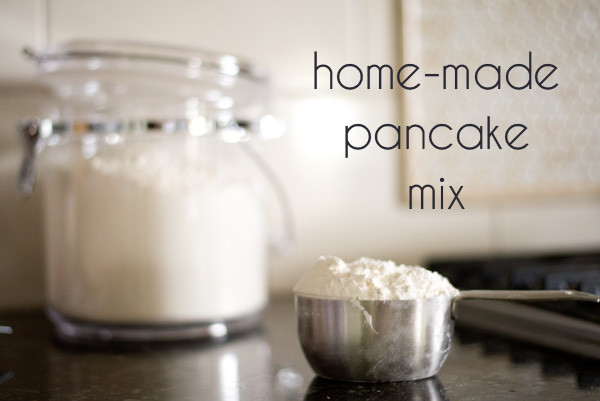 Now instead of having to get out the flour, baking powder, sugar, and salt as well as the different measuring utensils for each, I can just grab the mix and add it to the wet ingredients!
No more sacrificing taste for convenience when you make homemade pancake mix in bulk. It's so much, much, muchly better than the boxed stuff!
Homemade Pancake Mix in Bulk
Ingredients
9 cups flour
1 cup plus 2 tablespoons sugar
½ cup plus 2½ tablespoons baking powder
6 teaspoons salt
1½ cups milk
3 tablespoons butter, melted
2 eggs
½ teaspoon vanilla extract
Instructions
Whisk flour, sugar, baking powder, and salt together in a large bowl and store in an airtight container.
For a batch of 10-12 pancakes, combine milk, butter, eggs, and vanilla extract in a large bowl. Add a heaping 1¾ cup of pancake mix and stir just until combined.
Pour onto a greased hot griddle, using about ¼ cup for each pancake. Let cook on each side until lightly browned.