Welcome to Day 9 of The Spring Cleaning Challenge! Today, I'm going to walk you through spring cleaning kid's stuff: all types of toys, furniture, and electronics. I'm even going to tell you how to wash booger murals. Yep, I have a wall wiper. Don't worry, there won't be pictures of that! I'll also touch on sorting through and storing kid's clothing by sharing my method for containing this madness! Are you ready!?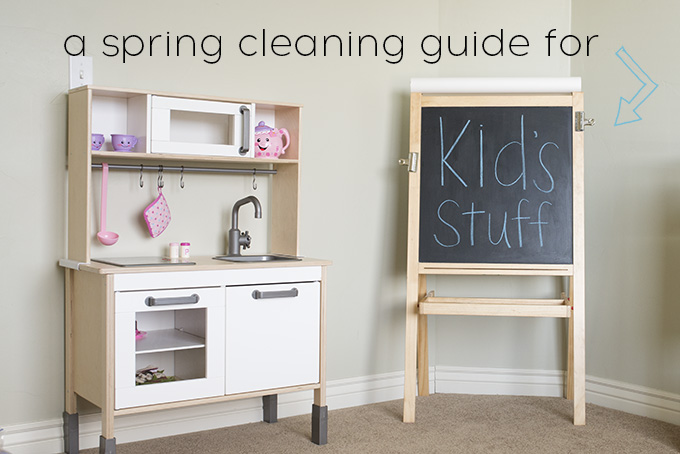 Oh, before we begin! One important tip: 
Have your kids help you! 
It is after all,
their
stuff. They wiped the boogers, make them wash them off. Check out iDream of Clean's Chore List for Kids if you need ideas about what to delegate to your children. And have fun! Who says cleaning always has to be boring and hard?
TOYS
Let's break this down into types of toys based on material. Then let's start with the easiest of toys to clean.
Because these can likely be fully submersed in water, the easiest method for cleaning them is to do it in a tub or container of soapy water. You can use a squeeze or two of dish soap or a couple tablespoons of laundry detergent. Give your child a cloth and let them wash away!
For an all-natural disinfect rinse, place the toys in a solution of water, tea tree oil, and lavender essential oil (4 drops each per gallon of water). These oils have antiviral, antibacterial, and anti-fungal properties, making them a great all-natural disinfectant!
Alternatively, you can use Hydrogen Peroxide.
Stuffed Animals
Chances are, these can just be tossed into the washing machine. Read the care label of each and if it instructs to hand wash, examine it for delicate clothing as well as glued on parts. If it has neither of these and it has plastic pellets inside, you are probably okay to wash it on a delicate cycle in warm or cold water. It may also be a good idea to place the stuffed animals in a mesh bag before placing in the washing machine. Hang to dry.
Stain Removal 101 has a great article on washing stuffed animals which includes instructions for hand washing and spot cleaning them.
Wooden Toys
Take a rag dampened with soapy water to them. Dry well.
Dolls and Barbies
Strip them of their clothes if dirty and place in a mesh bag. Wash them in the washing machine in cool water. Wipe bodies down with a disinfectant wipe if they are plastic. Many fabric dolls can be washed in the washing machine on delicate cycle. Use your best judgement and ere on the side of caution! Spot clean if needed. Soak tangled hair in diluted fabric softener, then rinse and comb out for shiny, tangle free locks!
KID'S FURNITURE
While I regularly dust the furniture in various areas of our house, I often overlook the furniture in our children's rooms. Take a few minutes while you're spring cleaning this season to wipe down and/or dust all the kid furniture. I know my baby's crib is particularly dusty! And that easel pictured above got wiped down from top to bottom moments before I took it's picture. I was pleasantly surprised to get dry erase marker off the wood portion! It's amazing how a little cleaning can bring new life to stuff!
Booger Walls
This is right up there with diaper blowouts, as far as disgusting goes. Seriously. Have your child help out with this one as much as they are able! In order to get the dried boogers off the wall without chipping paint, you are going to need to rehydrate them. Grab a warm wet washcloth and hold it to the booger wall for several minutes. You may consider taping the washcloth to the wall and taking a nap while they soften. Once they are no longer hard, they should come off with a little rubbing of the wash cloth. Carefully use your fingernail to scrape if needed and if you can handle it. If paint still gets chipped, it's time to contact https://industrialpaintingcontractors.co.uk/ for their services. Good luck!
ELECTRONICS
Tablets you use to play satta king, game systems and remotes, iPods-they all need wiped down! The easiest thing for me is to use a disinfectant wipe. I then rub a microfiber cloth across screens to remove smudges.
CLOTHING
Now is also a great time to sort through kid's dresser drawers and closets! Toss it, donate it, or keep it. With two young kids that are outgrowing clothes about as fast as I can buy them, having a system in place has been vital! Ours is simple. We always have a tote on hand, one for each kid. As they outgrow something we place it in the tote. When the tote is full, I label it by size of clothes inside and store it out of the way.
Once you've gone through the clothes, you'll want to organize them! We've been using i-know-where-it-goes drawer stickers to keep things tidy. They have worked wonders! 5 sets are up for grabs in our giveaway, so be sure to enter below!
And continue to let the kids help as you clean on a daily basis with Clean Mama's free printable Chore Lists!
WE CHALLENGE YOU TO:
1) Spring Clean your kid's stuff and involve them in the process! Do as much or as little as you have time for. The important thing here is that you make progress!
2) Take pictures along the way and share them with the Spring Cleaning Challenge Co-Hosts on Twitter, Facebook, or Instagram. Use #SpringClean so we can find them and celebrate with you! You can find us here: