Keeping your kitchen organized is key to not only keeping things looking neat but for making working in your kitchen all the easier. Let's take things one step at a time and talk about how you can use your do-it-yourself skills to keep items like aluminum foil stay in order.
Keep reading to learn how to make a DIY foil and plastic wrap organizer!
How Can You Organize Plastic Wrap and Foil?
There are plenty of different ways that you can keep your plastic wrap and foil organized.
Here, we'll look at how you can make a DIY foil and plastic wrap organizer as well as take a look at a few alternatives!
What You'll Need to Make a DIY Foil and Plastic Wrap Organizer:
Your aluminum foil and plastic wrap
A few Self-Adhesive Hook
Rule to measure the distance between two ends of Plastic Wrap
How to DIY a Plastic Wrap and Foil Organizer with Self-Adhesive Hook
Today I want to share with you an inexpensive and convenient way to store your handy wrap and tin foil.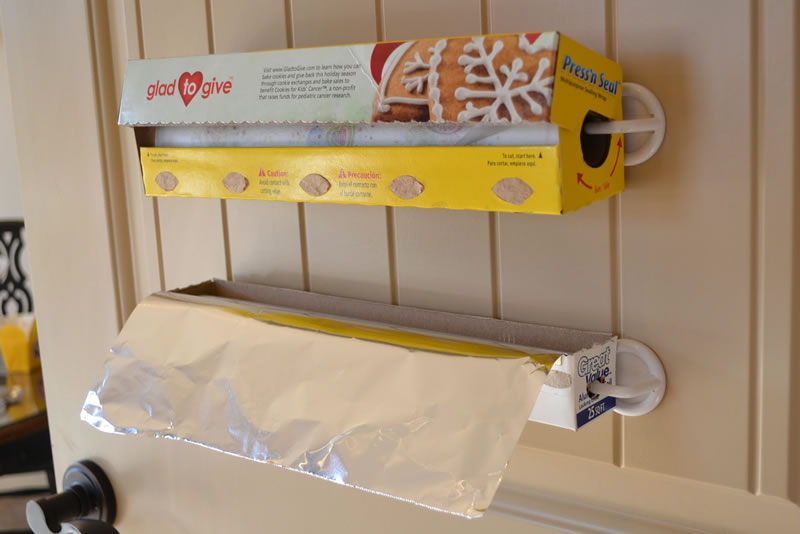 These essentials of mine used to be stored in a cupboard underneath the counter along with plastic baggies and wax paper and what not.
Each time I needed to wrap something up, I had to bend down and dig through the various boxes to find what I was looking for.  So I got looking at those boxes and thinking…and came up with the idea to hang them!
1. Measure the Right Distance Between Two Ends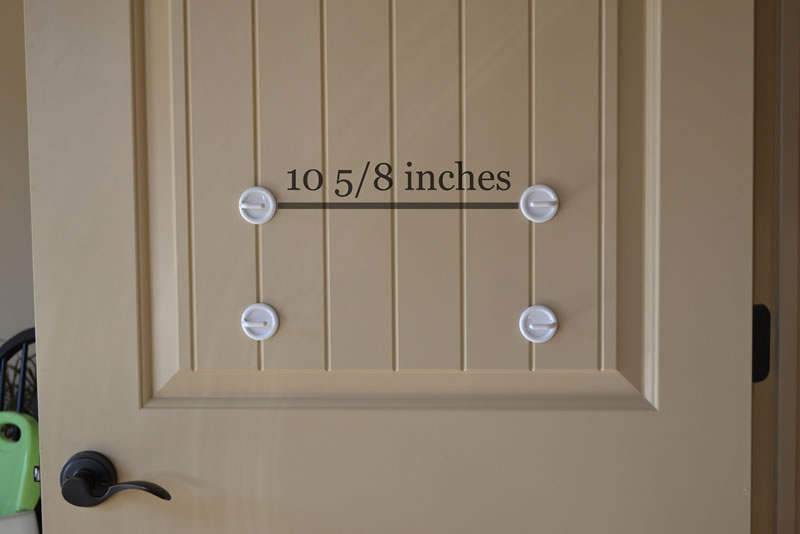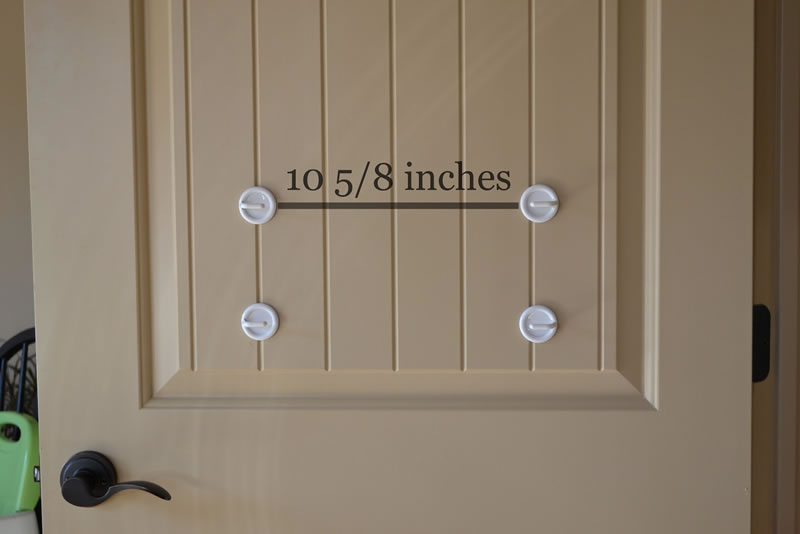 I took measurements and spaced the hooks 10 5/8 inches apart from inside to inside.  The boxes fit on by sliding one end on first and then slightly pulling the other hook so the opposite end can be inserted.
2. Stick Plastic Hooks at Two Ends
The little notches on the ends are perfect for this!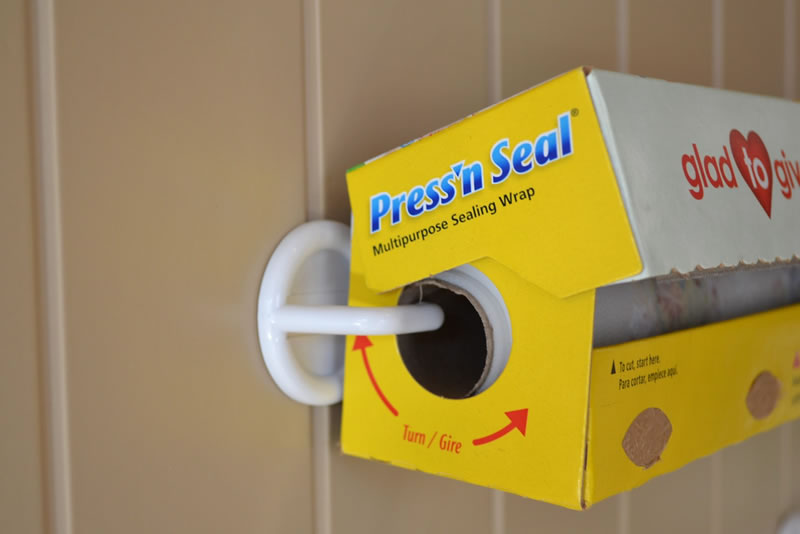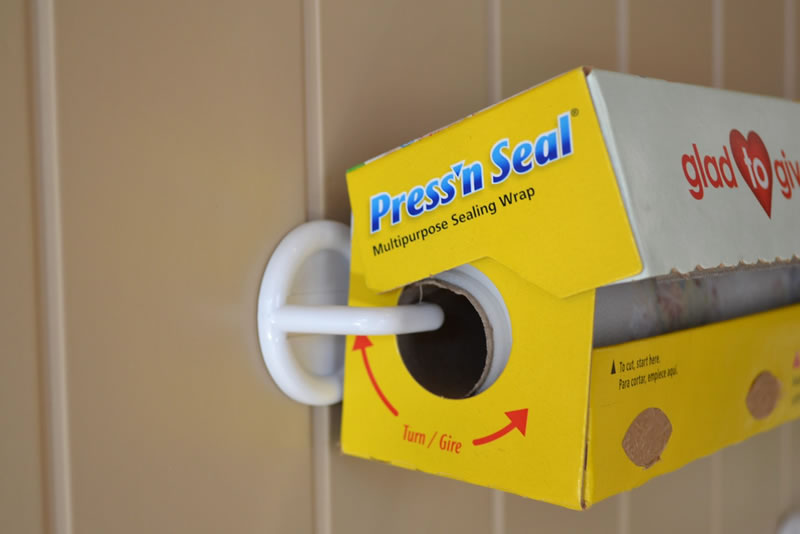 I found this package of plastic hooks at Walmart on the isle with the bathroom storage accessories.  And it only cost a couple of bucks!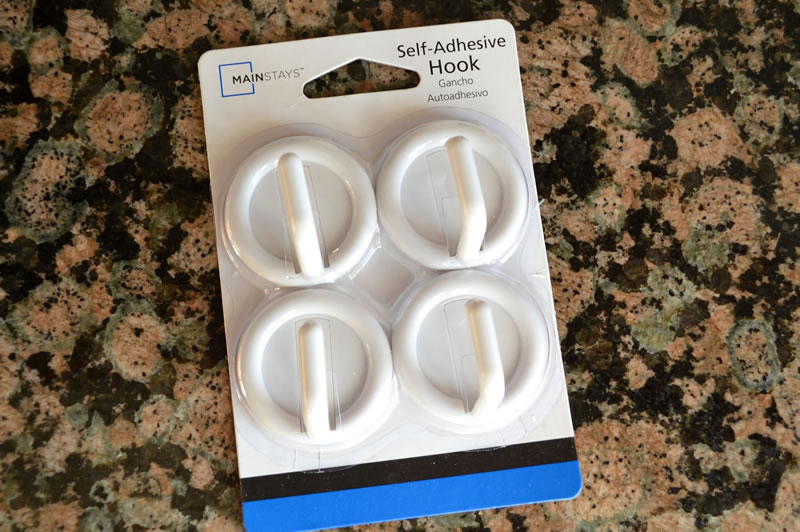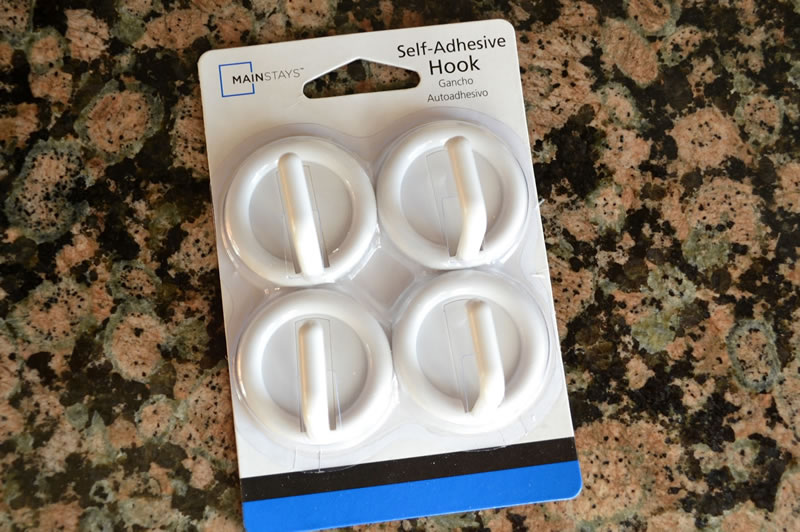 I felt like the pantry door was the best location for my handy wrap and tin foil, mainly because I could place them at a height that was perfect for me. The cupboard doors would have been impractical because they were all too low or high.
Plus, they now take up space that was previously going unused!
The hooks have just the right flimsiness factor to allow you to do this!
And there they are hanging, just waiting to be used!  I should note that these hooks are very strong, in that they are really stuck on there.  So use caution as to what type of materials you adhere them to!
For me, this was the perfect solution for storing my handy wrap and tin foil.  They are so much more accessible now, and it's easy to slip the boxes on as well as take them off!  Not to mention, all it took was some pocket change!
How to DIY a Plastic Wrap and Foil Organizer With Shower Caddy
Items You would need to Prepare:
A two-level wire shower caddy

It's important to look for this specifically for this tutorial to ensure that you can modify the shower caddy and have room for your foil and plastic wrap.

Simple over-the-door hook hanger

Make sure this is suited to where you'd like to hang your foil and plastic wrap. You might need a smaller one for a cabinet door as opposed to a thicker pantry door.
Step 1: Modifying the Shower Caddy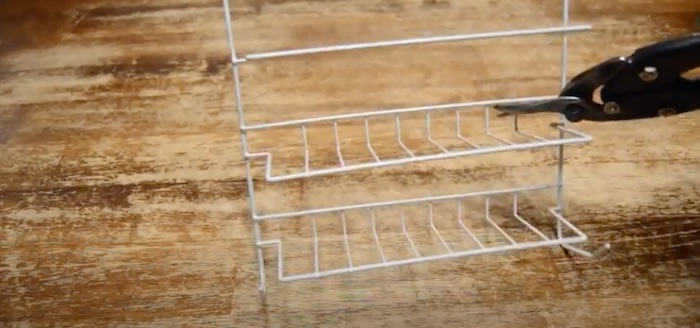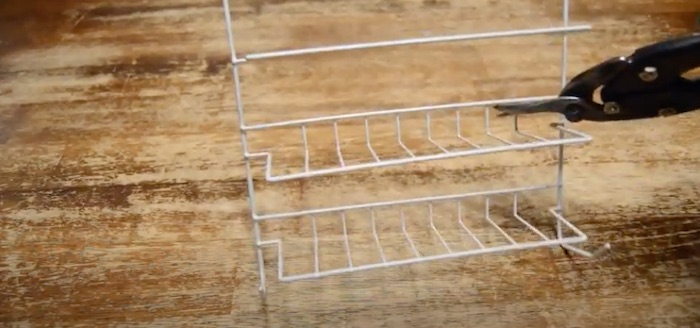 The first step to take is to gather your materials and start to modify your shower caddy as needed. Since you're looking at a two-level caddy, you might wonder how your plastic wrap and foil are going to fit in there. This is where your wire cutters come in.
Use the wire cutters to remove the rack from the top layer. You'll still want the frame, so just clip off the shorter wires from this level where they connect at the main frame of the shower caddy and the second level.
Step 2: Place the Aluminum Foil and Plastic Wrap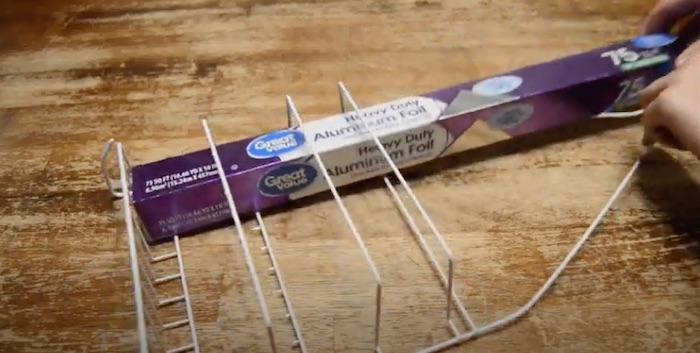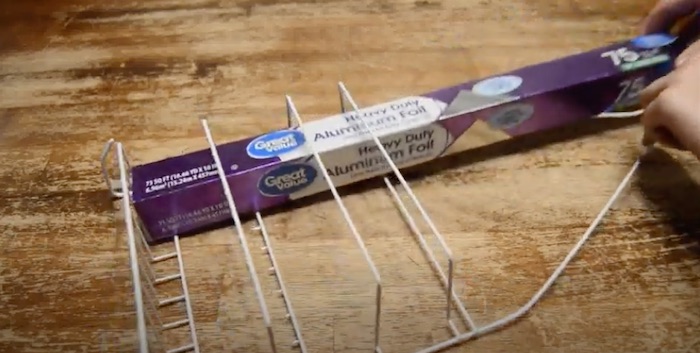 From here, you can go ahead and add in your aluminum foil and plastic wrap. Slide these into the caddy from the top. The bottom rack should hold the boxes in place while the frame from the second shelf keeps them secured.
You can fit multiple boxes into the caddy side-by-side this way.
Step 3: Hanging Your DIY Foil and Plastic Wrap Organizer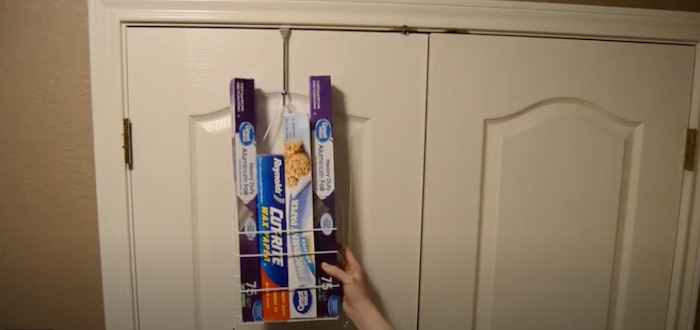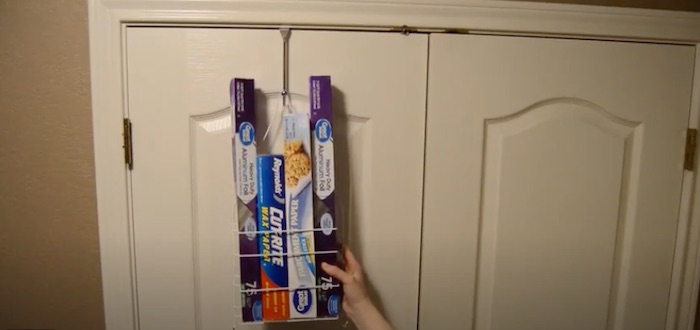 Now that you have your caddy, you might be wondering where it would even fit in your kitchen. Don't worry – you don't have to find any new counter space for it. Instead, you can hang it over your pantry or cabinet door.
Start this step by placing the door hook where it needs to go. These usually just hook over the door, so there isn't any complicated installation to worry about here. From here, just hang the caddy on the hook.
Step 4: Optional Extra Security
When we discussed what you'd need for this tutorial earlier, we mentioned you might want to have some tape like duct tape handy. That's for this step that isn't necessary but can give you a little extra security.
You can make sure that your caddy doesn't swing around or bang on the door you hang it on by taping it at the bottom of the caddy and over the wire and to the door.
Using a Magazine Holder for Aluminum Foil Storage
You can use a magazine holder to store your aluminum foil and plastic wrap for a faster, easier solution.
All you need for this is a magazine holder. You won't need to modify it.
Once you have it, you can simply add your aluminum foil and parchment paper boxes into the holder.
Finally, you can neatly store it out of the way with a sliver of counter space or in a cabinet.
Using Hooks and Dowels for Plastic Wrap Storage
For this method, you'll need your boxes for mounting as well as a pair of hooks and a dowel for each box.
Mount the hooks next to each other but a little further apart than the size of the foil or plastic wrap box.
Slide the dowels through the box so that the roll inside is skewered but can still rotate freely.
Hang the dowel on the hooks (See the reference here)
Using a Plastic Wrap or Aluminum Foil Dispenser
Alternatively to a DIY project, you could always opt for a pre-made dispenser.
These options allow you to forego the boxes that come with plastic wrap and aluminum foil rolls completely.
Options like this one allow you to store more than one roll at a time too.
Where Do You Store Cling Wrap?
As we've seen, there are quite a few different places that you can store cling wrap. This includes options like;
Hanging a caddy holding your foil and plastic wrap on the back of a cabinet or pantry door,
In a magazine holder on the counter or in a cabinet,
Hanging on a wall or in a cabinet door with dowels and hooks, or;
In a pre-made foil and plastic wrap dispenser.
Does Aluminum Foil Keep Things Fresh?
Generally, yes! Keeping an item wrapped in aluminum foil is a great way to keep it fresh and keep any smells or odors in, so you aren't just smelling your leftovers in the fridge.
On the other hand, it's worth noting that acidic foods like tomatoes may react with aluminum foil. This can result in a harmless but surprising blue residue.
Is It Better to Wrap Sandwiches in Foil or Cling Film?
Well, it depends! Speaking broadly, cling film is the best choice for fresh foods. This also means the average sandwich full of veggies and cold cuts that you might throw in your child's lunch box or take with you to work.
Yet, aluminum foil is handy if you want to keep a toasted sandwich warm for a little longer.
What are the Disadvantages of Aluminum Foil?
From what we've talked about, it's easy to assume that aluminum foil is a kitchen hero. Still, it isn't perfect. For example, aluminum foil is notoriously easy to tear, just as your cling film might stick to itself as you try to stretch it over a plate.
There are some concerns about increasing the amount of aluminum in your diet but it isn't frequent enough of a problem to forego aluminum in your kitchen.
Is Aluminum Foil or Saran Wrap Better?
When you're looking at your organizer, you might wonder if you should reach for your aluminum foil or Saran wrap. Well, it really depends on your purpose!
As we've discussed, if you want to wrap fresh foods, it's best to reach for the Saran wrap. Plus, aluminum tends to react with acidic foods. On the contrary, you can't put Saran wrap in the oven and it won't help retain heat in warm foods.
Conclusion
If you found this tutorial helpful, let us know in the comments and share this article with your friends, so that everyone can keep their kitchen tidy and organized!
As a side note, I am thrilled to let you know I will be making an appearance over at 
Ask Anna 
each month!  Anna has asked me to be a regular guest and I couldn't be more excited!  Hers was one of the first "cleaning" blogs I stumbled upon when starting A Real-Life Housewife and she has been so helpful and kind to me.
Seriously, she is so nice!  And her blog is full of organizing, cleaning, and home decor ideas.  Go check her out if you haven't already, right now she is doing a series on the many uses of vinegar!  You are sure to find a use you didn't know about.
{This was originally a guest post for Ask Anna.}